There has been much confusion as of late regarding [DARKNESS] suffix, and most commonly questioned is the usefulness and effectiveness of this suffix relative to Bowmasters. In CDN, players were able to alter
all
their attacks and skills to darkness-based by equipping the old manti weapons. This was not made possible in the newer servers as they stopped the release of these weapons. However, with the release of [DARKNESS] suffix to DragonNest SEA, many have been wondering if this suffix would benefit players as much as the old manti weapons did, or would it not at all? This has sparked several of our guild mates to test this together, with me piloting AngryYoda's Bowmaster, to understand the potential of this suffix.
According to
forum.mmosite.com
, the following skills are affected by dark elemental damage. I've selected a few of them exclusive for our testing, which I have indicated in red. In addition, tests on Aerial Chain Shot were performed as well. These skills were chosen as they are spammable, high damaging and effective in PVE situations(I think).
Quote :

Archer
Twin Shot, Piercing Shot, Multi Shot
Bow Master
Charge Shot, Siege Stance, Arrow Shower, Pinpoint Shot, Extension Arrow, Swift Shot, Rapid Shot, Guided Shot, Revolutionary Ballista, Ankle Shot, Stunning Shot, Triangle Shot, Fake Shot
Acrobat
Kick&Shot (kick part not included), Circle Shot, Astral Illusion (part of)

This was how it used to be, in ancient CDN times:
Several areas to be clarified before proceeding:
- THE FOLLOWING DATA PROVIDED IS FOR INFORMATIVE PURPOSES ONLY. DO NOT BLAME ME OR ANY BLOOD MEMBER IF THE DESIRED RESULTS TURN OUT TO BE UNSATISFACTORY.
- None of my party members are hitting the same target as I am. They are present merely to heal, provoke, and cast Beyond Time.
- I'm not wearing a quiver.
- For standardization purposes, we have used level 40 crossbows, one crafted [WIND], the other crafted [DARKNESS]

TWIN SHOT: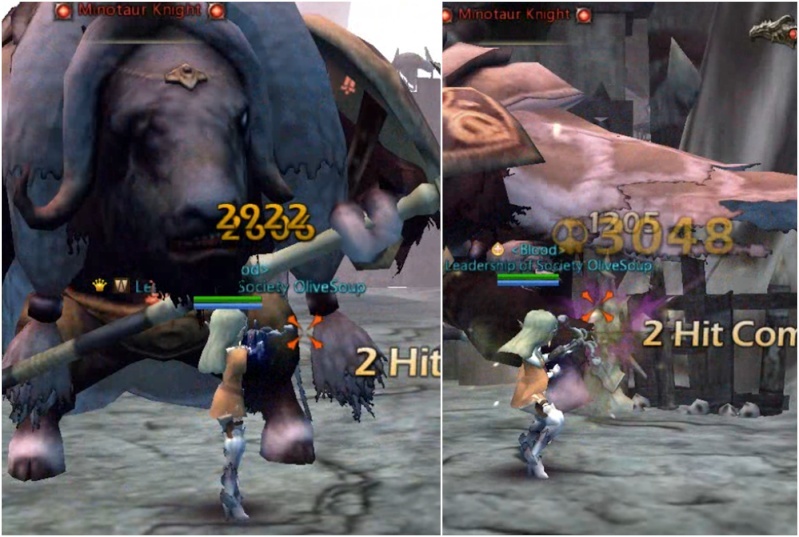 PIERCING SHOT:

MULTI SHOT:
ARROW SHOWER:
TRACKING ARROWS:

ANKLE SHOT:

TRIANGLE SHOT:

AERIAL CHAIN SHOT:

Conclusion
As you can see, with the exception of ankle shot, almost all the other skills seem to benefit more from [DARKNESS] suffix as compared to [WIND]. The higher your dark elemental percentage, the higher your damage would be. However, as [DARKNESS] would only proc once every 30 seconds, chances are people wouldn't be willing to spend on brilliant rings and tough accessories just to get their darkness elemental percentage up. I would recommend crafting [DARKNESS] suffix on your main weapon, complimenting it with a [WIND] suffix on your quiver. Dual [WIND] is more consistent, but if you like to see your damage fluctuate like a stock market, go for [DARKNESS]!. In nests, when your party mates stack their suffixes on bosses e.g. [INTELLECT], [WIND] and [BEAR], your damage would be exponentially increased if these suffixes occur at the same time. However, having a [DARKNESS] suffix on your bow might make your bow less marketable if you intend to resell it when the time comes. Bear in mind that the above tests were carried out with a +0 crossbow, the effect would definitely be amplified with a fully-geared character. If you really do intend to craft your bow to [DARKNESS], leave it as that. Don't bother pumping your dark elemental percentage as it isn't worth your buck. Go for physical attack/ critical potentials on your gears and accessories. Build your foundations well to make sure that you can function well even if your suffix doesn't procure on occasions you wish they would. On hindsight, mobs with dark-resist abilities are omnipresent in our dungeons and nests (spiders, ogres, ghouls). So before you make any life-changing decision to craft your Manticore/ Apocalypse bows to [DARKNESS], remember, this guide was initiated with an informative purpose, do not rely on it too heavily due to the the scope limitations! Have fun gaming!
References:
1)
http://forum.mmosite.com/thread/2/217/20110205/Skills_that_Affected_by_Dark_Damage-4dac375f95a693213-1.html
2)
http://forum.cherrycredits.com/forum/topics/view/insights-analysis-for-harsh-wind-fatal-darkness-weapons-hp-armor
3)
http://forum.cherrycredits.com/forum/topics/view/dark-attack-element-useful-for-phys-bowmaster-pve
Special Thanks To:
AngryYoda (for lending me his Bowmaster and for healing me)
Mlechchas/Decroux (for aggro-ing the black cow)
Jabby (Beyond Time is just too awesome)